How Global Sports has been supporting Sheffield Hallam University develop the employability of it's Sports Business Masters students through access to a network of industry experts and insights.
The Opportunity
Sheffield Hallam University and Global Sports began their partnership in 2019. Sheffield Hallam University's Sport Business Management MSc is designed to develop employability skills alongside a detailed knowledge of the global sports industry. It is for this reason that a relationship with Global Sports and our international network has proved so valuable for Sheffield Hallam's Masters' students.
The Challenge
Whilst Sheffield Hallam has existing links to the industry they wanted to further expose their students to insight from industry experts. This provides all students the opportunity to apply their academic learning from specific topics and modules to understanding real-life examples, enhancing their understanding and view of the industry.
"Our goal was to provide students with an additional opportunity of exposure to selected industry experts, and Global Sports were absolutely brilliant in delivering what we wanted. It was a true process of co-creation – from consulting our MSc students on the proposed topics to deciding on the format of networking. This webinar is an example of truly tailor-made solution for our course, with its impact extending way beyond the digital event."


Dr Olga Polyakova, Course Leader for MSc Sport Business Management
The Solution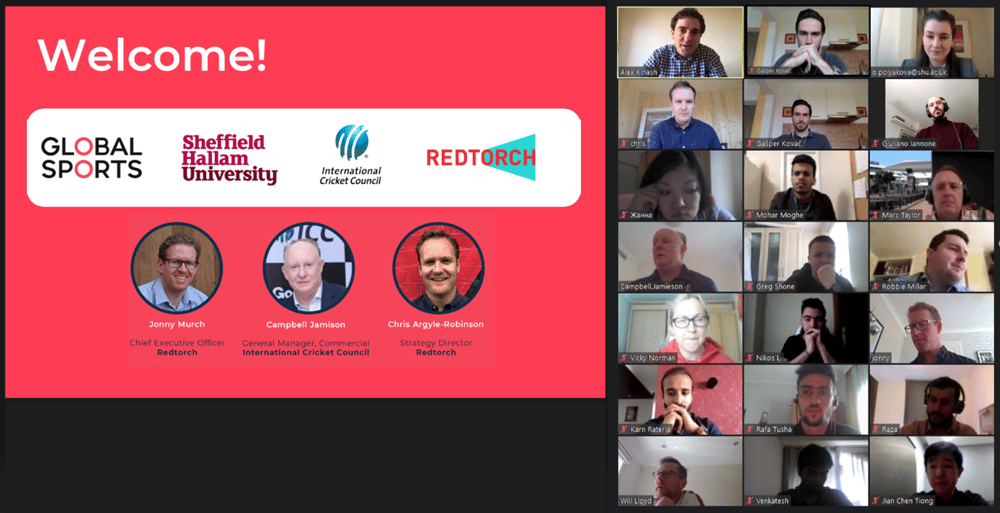 Global Sports hosted a closed webinar, offering students exclusive access to a panel of speakers discussing key topics related to specific academic modules. This was an interactive process from start to finish, with the students being involved throughout the planning and delivery. This started with Sheffield Hallam University taking a poll of which themes the students wanted to cover in this session. After the vote concluded Global Sports had 2 clear topic areas for which to source relevant and engaging expert speakers to cover the topics. The digital event was held via Zoom attended by all Masters students, hosted and moderated by Global Sports including speakers from the International Cricket Council (ICC) and Red Torch Media. The webinar session included a Q&A session to allow students sufficient time to interact with speakers and Global Sports.


The Results
Ultimately this provided the Masters' students with a host of benefits:
Real-life industry examples and insights to apply to their academic learnings

Networking opportunities

A better understanding of career journey's and opportunities in the global sports industry
Following an in-house marketing campaign created by Global Sports delivered excellent student attendance and proved that there was a real desire for learning, interacting with the industry and career support Filming of the event also provided Sheffield Hallam 'real life' learning material for future student engagement opportunities.
---
Want to find out more?

Get in touch with Global Sports and find out how we can support your organisation's talent challenges and objectives.
---