To support the FA's commitment to improving equality and diversity of the workforce across the English elite football game, Global Sports developed the FLDC Careers Platform. Providing a central website, for all code members to post their available jobs and reach a diverse range of candidates
The platform was one of a number of initiatives invested in by The FA for the launch of FA's Football Leadership Diversity Code (FLDC).
.
Our Scope
In collaboration with The FA, the platform was designed, developed and is now currently managed exclusively by Global Sports.
From initial scoping, platform specification through to build and launch, including inducting various stakeholders in football.
Global Sports now proactively manages the job platform, including its promotion and marketing to diverse audiences, partnership development and EDI reporting on recruitment activity through it, on behalf of The FA and FLDC Code members.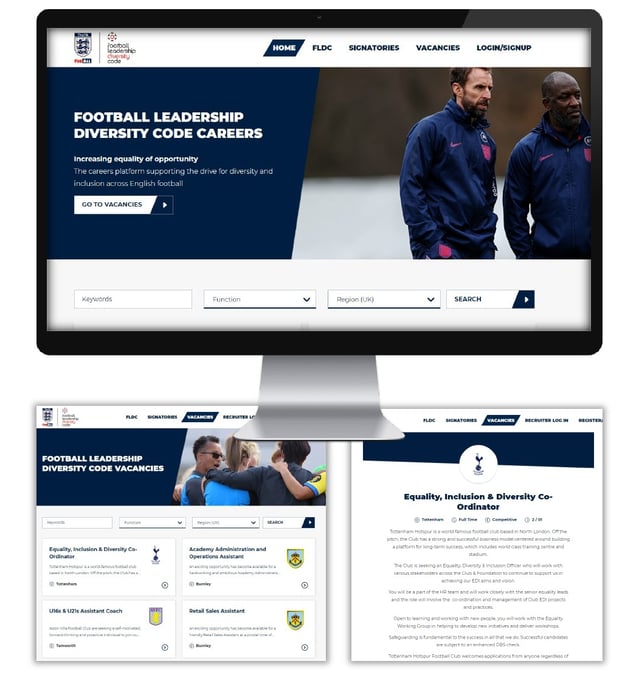 The Outcome
Over the first full season from launch, 52 clubs have signed up to the platform posting over 2,500 vacancies across the EFL, Premier League and associated organisations. Attracting over 12,000 applications while increasing the diversity of candidate applications month on month, delivering 40% of applications from minority ethnic groups and 71% of clubs saying diversity of their applicants has improved, delivering on its core objectives.
---

Want to find out more?

Get in touch with Global Sports and find out how we can support your organisation's talent acquisition objectives.
---